Get a call back
Get a call back from our team

Client testimonial
Iconinc Glassworks, Leeds
"A great install by Path at one of our PBSA developments. It's been great working with the professional team at Path Energy on many other projects ongoing. The one thing that stands out is that they are very prompt in answering questions, issuing informative proposals, educating as the technology is ever-evolving and finally quality checking their work and following up. It took us a few months in picking the most appropriate supplier for our installs and it has been worth the time. I can certainly recommend them."
Abhijit David, Parklane Group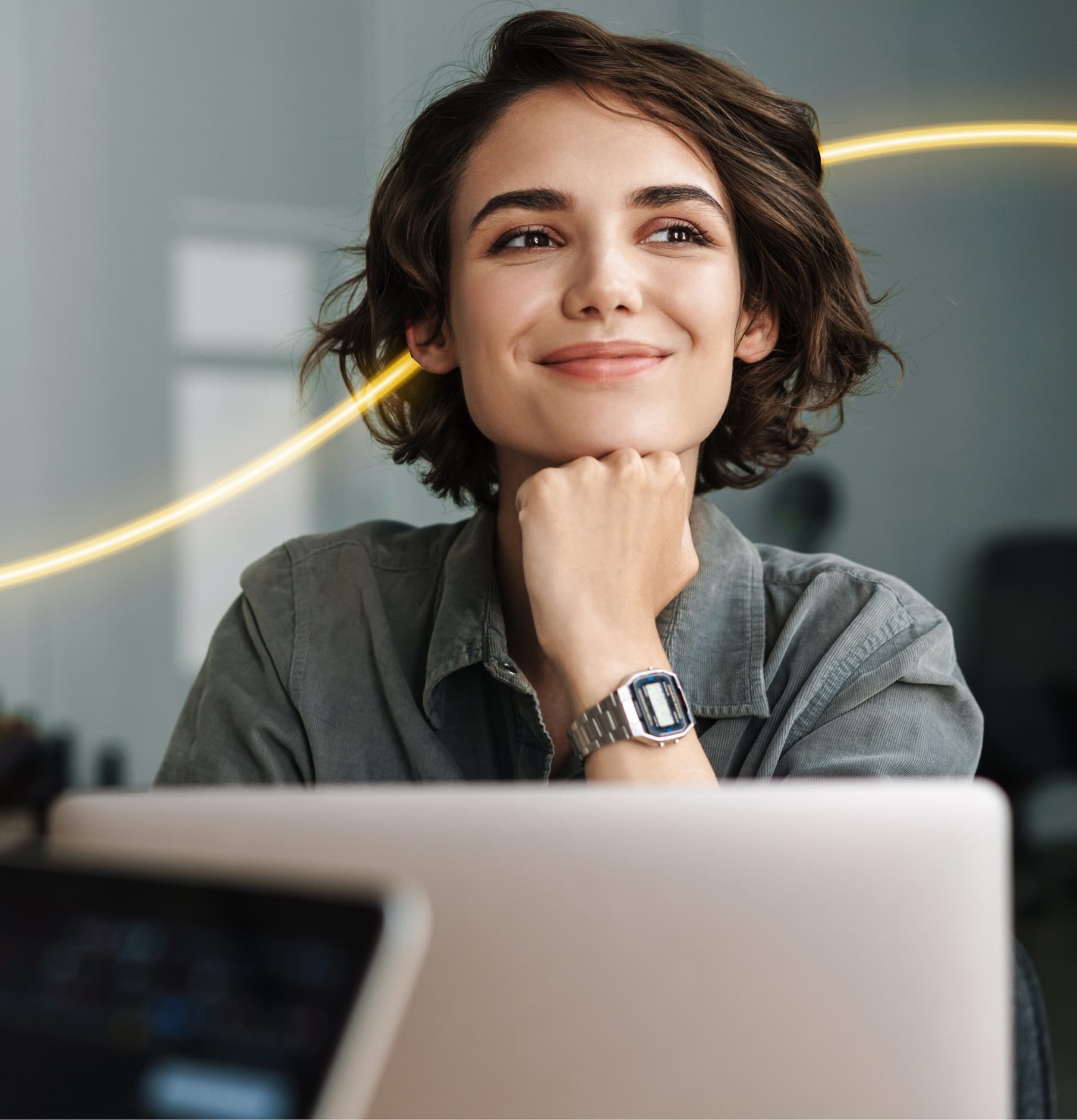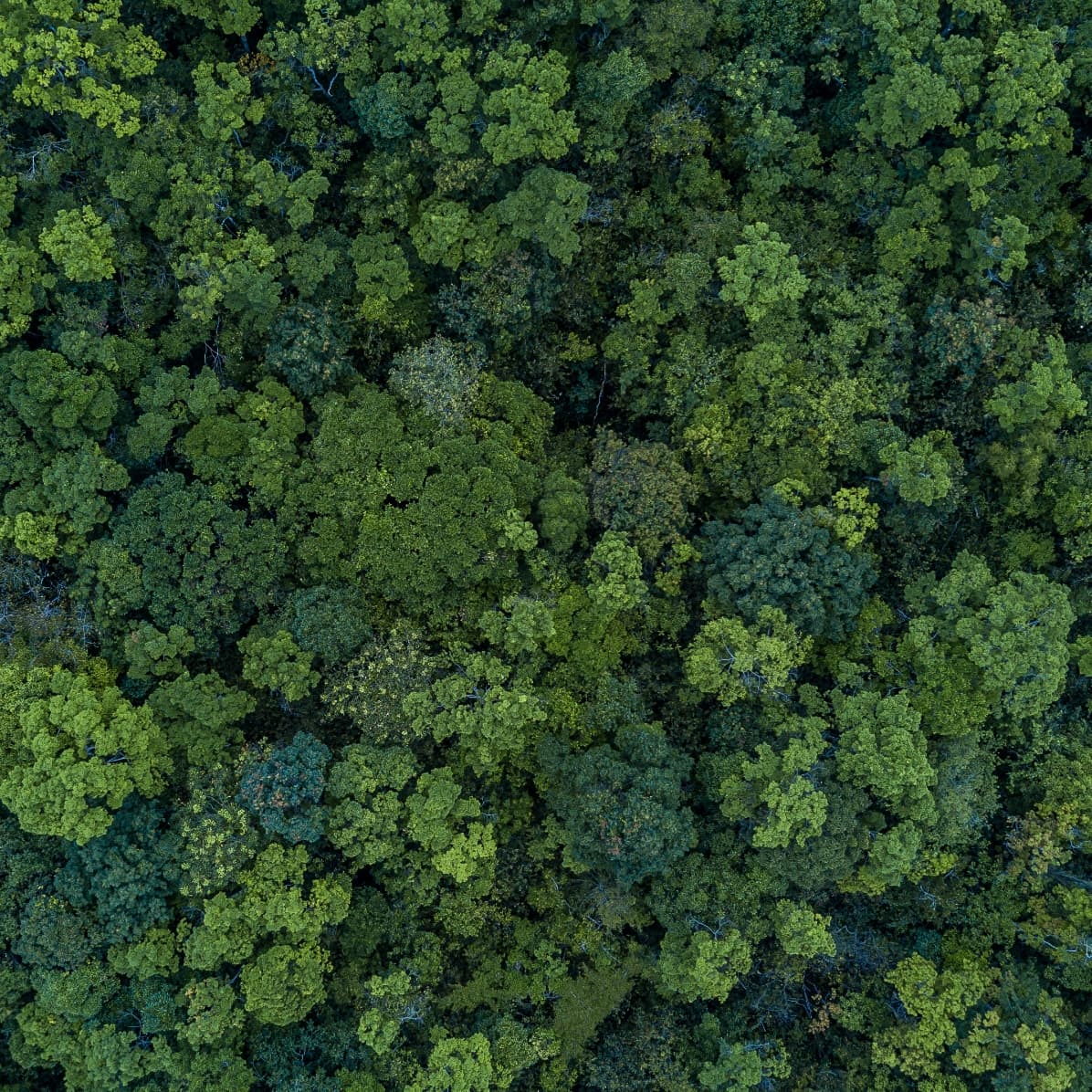 The future is green
Green energy for business
Our renewable energy installations can be fitted with the minimum amount of disruption to your business, will pay for themselves after a few years, and could potentially be paid for using business solar grants. They can also be subsidised with tax deductions, or even pay for themselves year-on-year with an asset financing loan.
Our commercial solar installations come with a 15-year product warranty and a 25-year performance guarantee. This means that in 25 years' time, your solar installation is guaranteed to still be providing as much of your business's energy as it did the day it was installed – up to 85%. Our installations leave you with an abundance of clean energy to tackle your energy bills long after the system has provided a return on its investment.
For more information on solar panels, installation costs, or our solar battery systems that allow you to store the energy you produce and use it later in the day or sell it back to the grid when it's most valuable, get in touch. Let one of our qualified experts talk with you about your unique energy needs and how to turn your business into a green energy company.
Our installer are accredited by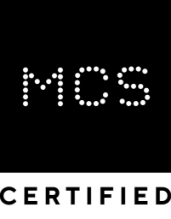 Our products:
Join the Net Zero race today
How much could your business save?
Take our quick and easy survey for a free saving calculation
Recent commercial solar installations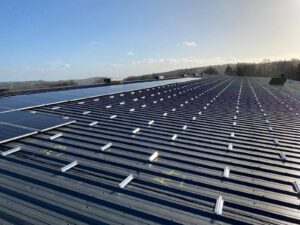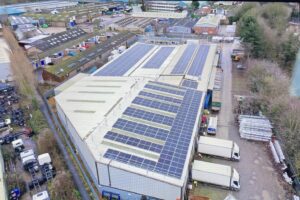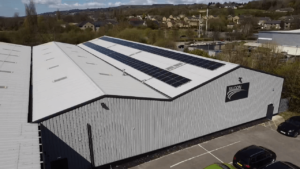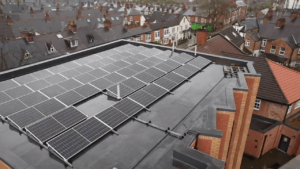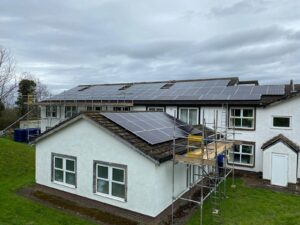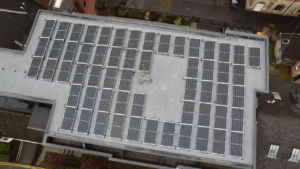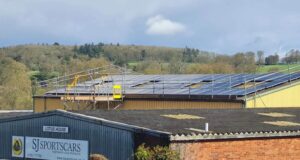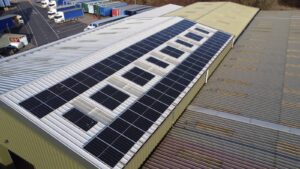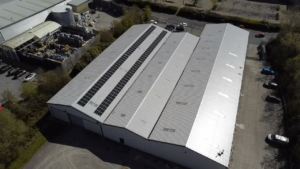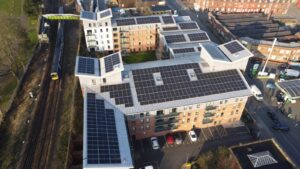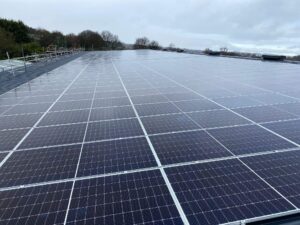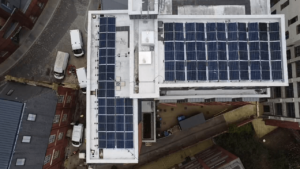 Start Saving
Why install commercial solar PV?
Save on electricity bills by generating your own clean energy
Protect the company's energy security by being less reliant on fossil fuels
Improve the green image and identity of the company
Earn additional income by selling excess energy back to the grid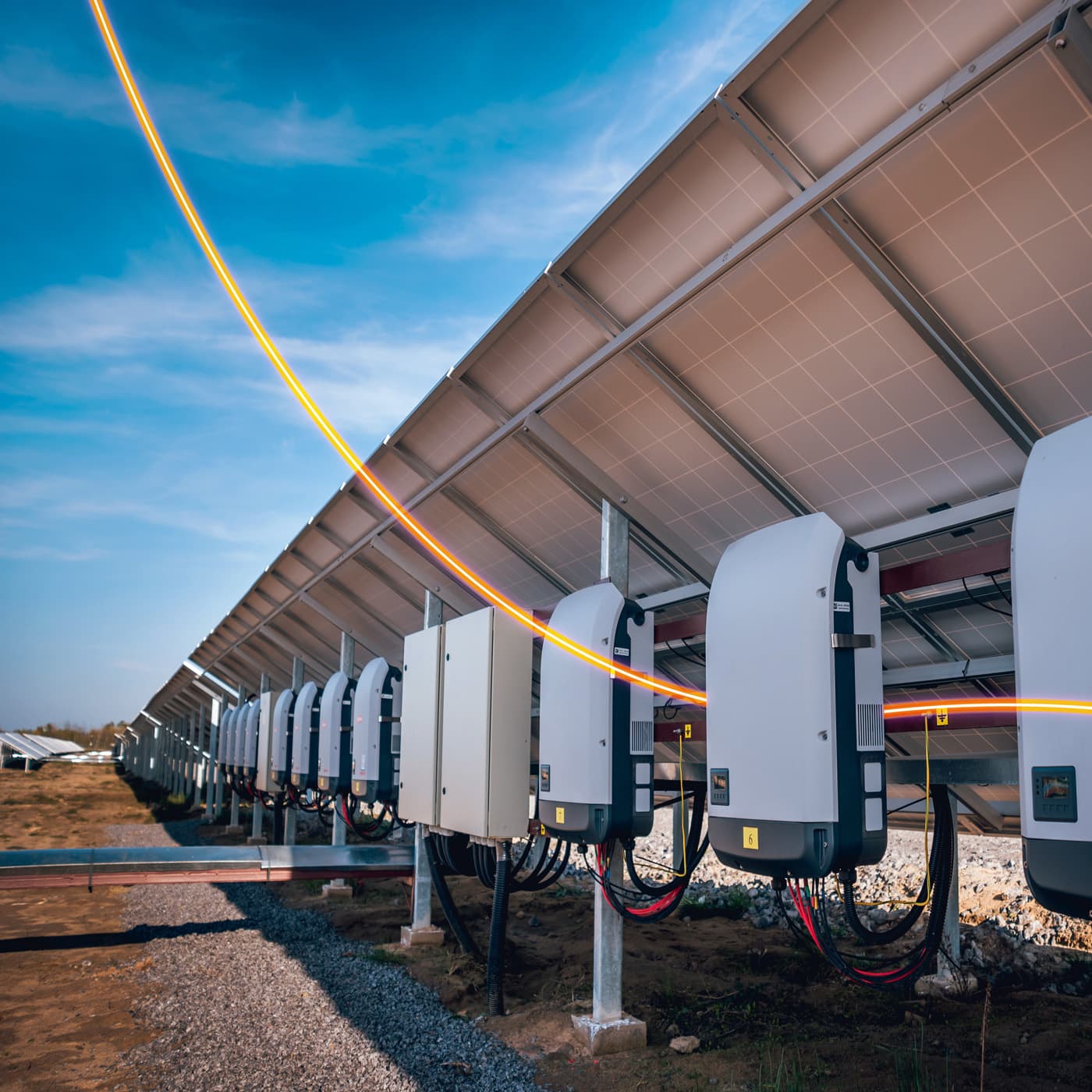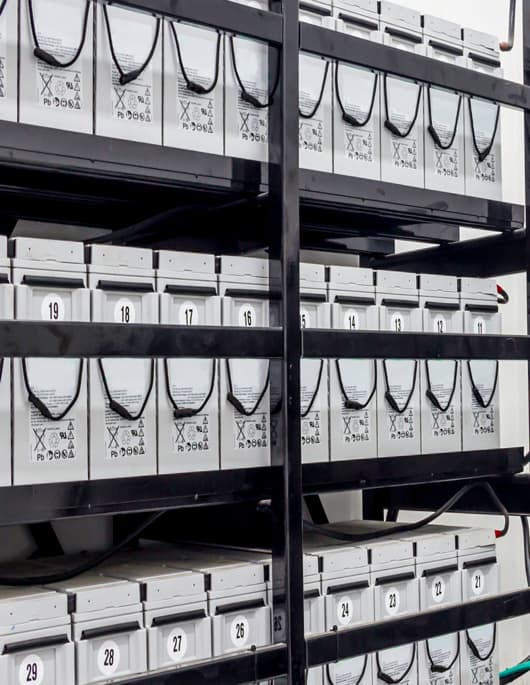 Renewable energy for business
We can install our
commercial solar energy
panels on either flat or pitched roofs, meaning that your business can start benefitting from clean, renewable energy without any expensive additions to your existing structure. Your return on investment will usually be covered in under 4 years through the savings made on your energy bills, with many businesses seeing full system costs recovered in less than 2 years. With 25-year performance guarantees, your solar installation will be one investment in your business and the environment that consistently provides value for money.
We have £1 million of solar panels in stock in our warehouse, meaning that once your system has been approved for installation by the local electricity network operator, we can begin with your solar panel installation in as little as 2-3 weeks. This is far quicker than the 6 months that the majority of our solar energy company competitors can offer, meaning you start saving money, time, and energy virtually straight away.
Services
We can help your business with:
Frequently asked questions
How does solar energy work?
Solar panels generate electricity from daylight. That means whether it's a dreary day in Exeter or a rainy one in Manchester, you'll still be able to generate free clean energy.
Does it make financial sense?
Solar didn't make much sense as recently as 2021 because energy was too cheap, but because energy bills are skyrocketing now they make perfect financial sense. Our
solar panel installation
usually pays for itself within 2.5 to 4 years and they have a lifetime of 25 years, giving you a very strong ROI.
How do I know it won't break?
All of our panels are Tier-1 rated, which means that they are certified by BloombergNEF. They also include manufacturer warranties, which are anywhere between 10 and 15 years and a performance guarantee of 25 years, so you can rest assured that your solar panel installation will be a worthwhile investment.
How long will it take overall?
Once you've agreed to go ahead, the longest part of the process is the grid application. This is applying to the DNO, the company that manages the local electricity infrastructure, which can take up to 12 weeks but as little as 4. Once that's done, we can typically install your business solar system in 2-3 weeks.
How can I use renewable energy for business?
Anything in your business that uses your normal electricity supply can be run off the solar renewable energy that your solar panels generate. That's anything from lighting to PCs, heating, and
EV charging stations
. You could even potentially store excess electricity and sell it back to the grid to form a sustainable residual income.
Is there funding available?
Due to the very strong ROI offered by solar panels, there are no subsidies or grants currently in place from the government. However, solar is an eligible product under the annual investment allowance, meaning that you can write off the capital cost against corporation tax, effectively reducing the system cost by 19%. Find out more about
commercial solar energy grants
.
Do I have to pay for solar outright?
No, there are a few options to
finance your commercial solar system,
the most popular of which is asset financing. This option allows you to get solar installed with no upfront capital outlay, paying for the system over several years instead. With asset financing, many of our clients find themselves able to achieve more savings than they pay back each year, meaning they're making a net saving right from day one. Get in touch for more information on this.
Can I get free solar for my business?
There are options for free
commercial solar installations
, under what's called a Power Purchase Agreement (PPA). This offering used to be a good option for businesses, as they could buy the energy back from the installer or PPA owner, securing them a small saving whilst being green. Meanwhile, the installer made a lifetime profit similar to what they'd get by selling a solar system directly to a business. However, with the massive rise in energy costs, PPAs now make little financial sense for businesses, instead providing massive profit-generating assets for installers, that the business should be the rightful owner of.